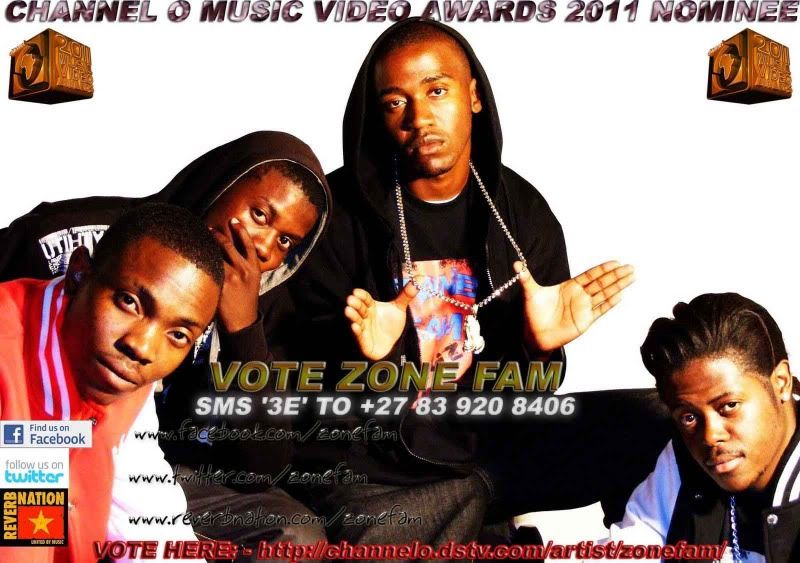 Vote for Zone Fam in this years Channel O Music Video Awards in the category "Most Gifted New Comer"
Our Video "Shaka Zulu On Em" was released on March 1st 2011 and has since gained rave reviews with airplay on Channel O, MTV Base and other video Channels.
It is currently our most viewed video on youtube with over twenty thousand combined views on various channels.
Vote Online Here (Once an Hour):-
http://channelo.dstv.com/artist/zonefam/
Sms '3E' this number in South Africa:-
083 920 8406
Outside South Africa Sms '3E' to:-
+27 83 920 8406
Wapsite voting
Online voting is available for WAP-enabled phones at
www.channelo.tv
. WAP voting is free of charge, but you may online vote once per hour.
MXit voting
To vote using MXit: open the browser on your WAP-enabled mobile phone, and type in m.mxit.com to download MXit for free. Then locate MXit on your phone in the applications or games section and register. Once in MXit, go to. Please note that voting on MXit is free and you can vote up to 10 times on MXit per voting period.
Watch Shaka Zulu On Em (On Youtube) here:-
[youtube]
http://www.youtube.com/watch?v=V5Y13IpaGrg
[/youtube]
Visit Our Website:-
http://www.sdrtv.com
Zone Fam on Facebook
http://www.facebook.com/zonefam
Zone Fam on Twitter
http://www.twitter.com/zonefam
Thank You and Keep Voting!