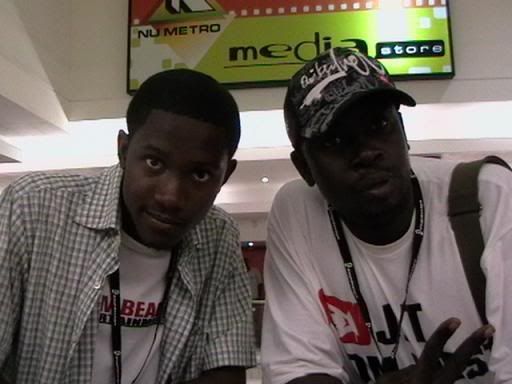 FECKO & MODENINE During an interview at Numetro Media Stores.
Hey fam! wats good??? Well, I actually did a video-taped interview with Modenine on may,2008...courtesy of PowerHouseAfrica.com...and he shared with me the vision, aims and objective of the African Hip-Hop Movement. Watch out for the video clip on the Power House Africa website soon. But in the meantime, I wrote an article about Modenine and the African hiphop movement...y'all can read it when you got time. One!
::THE ARTICLE::
Long before now, the African hiphop community hasn't really been in the public eye, especially to most people dwelling outside the shores of Africa. Back then, most African artistes were popularly known for performing traditional music genres like; Kwaito, Fuji, Afrobeat, High-life, Juju etc. It can further be stated that the likes of Late. Fela Kuti, Black Mamboza, Sir. Shina Peters, Mariam Makeba, Nico Mbaga and Osita Osadebe were typical examples of illustrious musical performers that excelled enormously well, by doing such Afrocentric music genres as at the late 70s, 80s and early 90s. Apparently, that seems to be the foundation of today's hiphop music in Africa which is gradually getting a large audience and recognition from overseas.
This development wouldn't have taken place if not for certain people who decided to raise the stakes by contributing immensely to the hiphop scene in Africa. "African Hiphop Movement" is one of such innovative approach geared towards reviving and expanding the frontiers of hiphop in Africa ever since its inception in February, 2008. The African hiphop movement - with support from the British Council is absolutely determined to bring the art form and the culture of hiphop back to consciousness by introducing WAPI to Africans. WAPI - which is currently spanning her arts/literature/music related activities across South Africa, Western and Eastern parts of the motherland, also plans to extend the project soon to North Africa.
The key-members of the African hiphop movement include; Buddah Blaze (Kenya), Lufunyo (Tanzania), YFM presenter - Leslie Kasumba (South Africa), Fortune Masina (South Africa), DJ Black (Ghana), Jansule (Ghana) and Nigeria's hiphop luminary - Mode Nine. Well, Modenine (a.k.a Nigel Benn) belongs to the school of thought that believes a true lyricist can actually keep it real and profitable at the same time. For his money, he said: "There are many talented young rappers who feel that recording a club track is the only ticket to stardom - which is wrong!"
Basically, the aims and objective of the "African Hiphop Movement" is to connect hiphop heads all acoss Africa and also to empower young talents by grooming them to become free-thinking artists, poets, MCs and writers via the WAPI Open Mic event. Furthermore, every hiphop head is already a member of the movement as long as he or she keeps it real all the way. The African Hiphop Movement has got sevreral future plans of pushing out a pan-African mixtape and also building real hiphop club spots across Africa, where most hiphop heads can chill-out while listening to some raw and undiluted hiphop tracks. It's also going to be an avenue for poets to showcase their 'spoken words/poetic' skills.
The African hiphop movement is gradually growing and of course open for sponsorship. It's obviously a promising innovation that really requires more hands on deck in keeping this wonderful dream alive. Let us all joint the movement! Africa hiphop stand up!!!